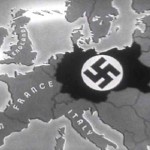 Production Year: [1943]: The film begins immediately after the fall of Poland. Of the two major Western Allies of 1940, the United Kingdom is first to be mentioned. The role of the Royal Navy in blockading Germany is highlighted, in that it means that Germany must overcome British resistance in order to clear the way for its world conquest. Hitler's treachery towards the small neutral countries of Europe is exposed – to Denmark: "We have concluded a non-aggression pact with Denmark" – to Norway: "Germany never had any quarrel with the Northern States and has none today" – to the Netherlands: "The new Reich has always endeavored to maintain the traditional friendship with Holland" – and to Belgium: "The Reich has put forth no claim which may in any way be regarded as a threat to Belgium". These quotes are repeated after the conquest of each of these countries is shown.

The first targets of the Nazis in 1940 were Denmark and Norway. Nazi interest in Norway is described in terms of Germany's desire to use Norway's fjords as U-boat bases, and to use airfields in Norway for a bomber attack on the British naval base at Scapa Flow. After Hitler's surprise invasion of Denmark is briefly mentioned, the film accuses the Nazis of using Trojan Horse ships – designed to look like merchant ships but concealing troops, tanks and artillery guns – as a way of seizing control of all of Norway's ports. The role of Norwegian traitors such as Vidkun Quisling in aiding the Nazi conquest of Norway is also emphasized. At the end of the section on Norway, Hitler is likened to gangster John Dillinger and Nazi-occupied Norway is portrayed as the northern claw of a giant pincer movement aimed against Britain. The conquest of France would provide the southern claw…
Kiemelten ajánlott idegen nyelvet tanuló, a klasszikus film kedvelőinek! Sok nyelvet tanuló emberke hozzá szokott a szinkronizált filmekhez. A célom, hogy az élmény mellett használható angol tudást tudjatok szerezni.


Lassú internet, illetve nagyobb videónál előfordulhat, hogy a videóra

másodpercet (esetleg egy kicsivel többet) is várnod kell, indítás után!..