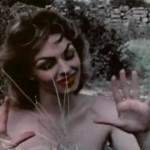 Production Year: [1964]: Stephen, a college student who is researching witchcraft, goes to an Atlantic coast village where a woman was executed as a witch in the 1800's. He digs up her shallow grave one night and removes the stake from her heart. She rises from the dead to once again tempt the men of the town and terrorize the populace. Stephen falls in love with Bella, a village girl who has befriended a deaf-and-dumb hunchback, but he comes under the spell of Beth, the vampire.

Bella becomes pregnant, and Stephen must decide whether to marry Bella and destroy Beth, or desert Bella for Beth, knowing that she will continue to terrorize the town.
Kiemelten ajánlott idegen nyelvet tanuló, a klasszikus film kedvelőinek! Sok nyelvet tanuló emberke hozzá szokott a szinkronizált filmekhez. A célom, hogy az élmény mellett használható angol tudást tudjatok szerezni.


Lassú internet, illetve nagyobb videónál előfordulhat, hogy a videóra

másodpercet (esetleg egy kicsivel többet) is várnod kell, indítás után!..